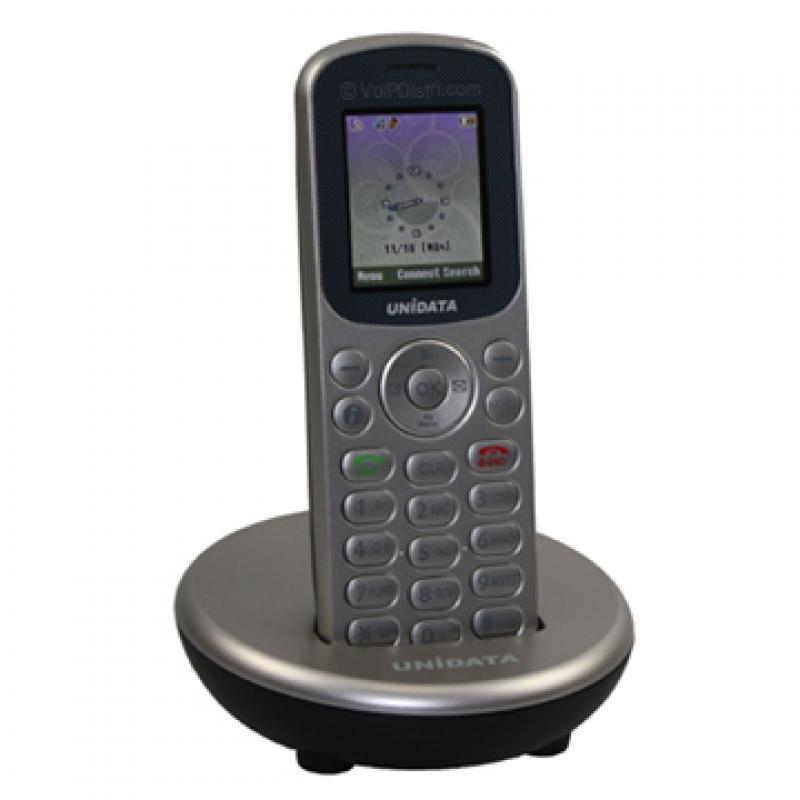 UniData WPU-7700 WLAN Telefon exklusiv bei VoIPDistri.com
Neue Firmware 2.6.0: Web Browser Configuration Tool, Phone Book Sync Tool, Full daylight saving time support.
Web configurator allows a user to browse to the IP address of the handset and configure settings such as username, password, WEP/WPA key and other network settings.
The UniData WPU-7700 is a SIP-based Wi-Fi phone designed for business.It combines a sleek design, crystal clear call quality and long battery life with an extensive enterprise feature set
The enterprise feature set is compatible with enterprise security policy, integrates with IP PBX offering sophisticated call handling and provides autoprovisioning functionality to ensure swift deployment.
Compatible PBX: Asterisk, NORTEL, Avaya
1. 802.11b/g Wireless LAN
WMMâ"¢ for QoS
Enhanced Power Save for longer lasting battery
 
2. Wireless Security
WEP (64 /128 bits)
WPA-PSK
802.1x EAP-MD5, EAP-TTLS, PEAP, EAP-TLS*
802.11i* (WPA/WPA2 Personal and Enterprise)Â 
 
3. Dynamic Network Binding
Pre-configuration 5 Network profiles
Wireless LAN Site Survey
Simple WLAN profile configuration for instant network connection
DHCP / Static IP
DiffServ (ToS) Tagging
NAT Traversal*: UPnP, STUN
Automatic roaming between APs
Layer 3 SIP hands-over 
4. Voice over IP

IETF RFC3261 SIP
G.711a/u, G.729ab Audio Codec
Jitter Buffer
In-band DTMF / Out-of-band DTMF (INFO, RFC2833)
SIP MESSAGE
SIP/SIMPLE Presence and Chatting*
 
5. Call Features
Call Mute
Call Hold
Call Transfer (attended / unattended)
Call Waiting
Call Forwarding (busy / no answer / unconditional)
Caller ID Display
Caller ID Blocking
3-way Conference (depends on SIP proxy)
6. Phone Features
40 Polyphonic MIDI Ring (/ Vibrator*)
Call History (Inbound / Outbound / Missed / Memo, 100 records)
Phone Book (500 records)
Speed Dial (99 records)
Distinctive Ringing (by individuals and/ or groups)
Active call history and phone book search while on the line
 
7. Applications
Simple HTML Browser (Google Mobile, customizable for other information services)
Alarm / Morning Call
D-Day
Calculator
World Time
 
8. Management
Auto/Manual Upgrade (TFTP/HTTP/HTTPS)
Auto Provisioning (HTTP/HTTPS)
SNTP Time Synchronization
Syslog Remote Logging
 
 * Optional 
UniData Phones: www.unidata-phones.de
Download
PDF Datenblatt
Configure WPU-7700 and Avaya Communication Manager (UniData WPU-7700 Wireless IP Phones successfully registered with Avaya SES)