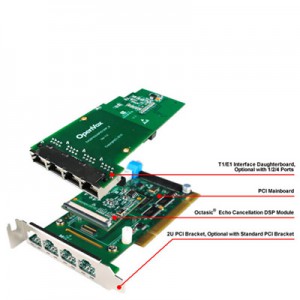 OpenVox Communication Co. Ltd, a global provider of open source asterisk® telephony hardware and software products, has announced today that the MOST advanced T1/E1 series PCI cards, with optional carrier-grade Octasic® DSP hardware echo cancellation, are now available to the open source telephony community. There are also the FIRST PCI cards in the industry that come with an adjustable interrupt routing design and, the most important thing is that this innovation design originates from our community by OpenVox.
The OpenVox new series cards are an upgrade product line of the former T1/E1 cards. They're supposed to be the most advanced asterisk® cards with superior quality in the open source community. The leading innovation ensures users to adjust the interrupts frequency to reduce the CPU load up to 70% and adjust the interrupt number to avoid interrupt number sharing or conflict.
"Most of the time when interrupt conflict happens during asterisk card installation in the system, users have no other choice but to change their servers. It's been a long suffering even in the whole PCI industry." said Lin Miao, the president of OpenVox, "The release of the new series cards has eliminated the interrupt issues. Users can simply adjust the interrupt number to ensure the cards to use one IRQ solely or to avoid conflicts with those frequently sending IRQ equipments such as network card and hard disk. "
"This innovation and improvement will definitely enable our products to deliver the highest performance that you could ever gain in the market." added Lin Miao, "We are confident that such great revolution will take OpenVox to the leading design and quality of asterisk hardware in the open source industry that others simply cannot duplicate."
These cards come with a low profile design and can fit with 2U rack-mount servers. They are designed with 32-bit 33MHz PCI and fully PCI 2.3 compliant, compatible with all commercially available motherboards with 5V or 3.3V PCI busses. The advanced FPGA design enables these cards to upgrade their firmware onsite to take advantages of hardware and software improvements when they are available. Moreover, the Octasic® DSP echo canceller provides enhanced voice quality with up to 1024 taps/128 ms tail per channel on all channel densities for both T1 and E1 interfaces, with no additional CPU load.
The new series cards include the following:
| | | |
| --- | --- | --- |
| Model Name | Interface | Digital Signal Processor |
| D130P | PCI | N/A |
| DE130P | PCI | Hardware Echo Canceller |
| D230P | PCI | N/A |
| DE230P | PCI | Hardware Echo Canceller |
| D430P | PCI | N/A |
| DE430P | PCI | Hardware Echo Canceller |
Last but not least, OpenVox also announces to upgrade the warranty program with the release of these new series cards. From now on, these new cards will not only come with a 3-month money back guarantee, experienced free technical support and free replacement in the unlikely event of a defect, but also a Lifetime Warranty. We are here to ensure that our advanced products can work well lifetime in your system.
OpenVox Distributor: www.VoipDistri.com